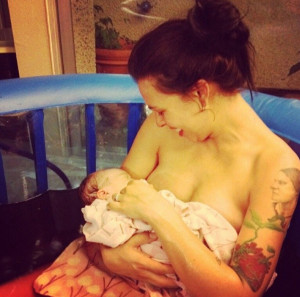 When I had my first daughter, it was a scary and very pressured experience. I knew what midwives were and wanted one but wasn't able to accomplish that with the means that we had. It was also one of the best hospitals in the country and they made themselves sound very accommodating to birth plans. This ended up not really being the case and I had an enormous amount of pressure to do things their way and on their schedule during the birth. Before the birth, my doctors visits typical lasted around 15 minutes after a 2 hour waiting time. I was determined to not go through that the second go round.
At the wonderful news of our pregnancy, I quickly contacted Quincy. My vision was mostly on the home birth at that point, not having pressure of nurses telling me to just get an epidural or nasty glares from doctors for my lack of participation in their birth plan for me. What I ended up being the most surprised about with my experience with Quincy was the extreme care I felt before the birth. During the many months sitting and talking with her at each appointment, I was able to feel a clearer understanding of my options, of different methods, ask detailed questions and get detailed answers. I also was able to build a relationship with Quincy that I will never forget and am so grateful to experience. I wanted my baby to come into the world with love surrounding her and I most certainly felt that love emanate from Quincy and her assistant. Because of the appointments I had, I was able to gain snippets of some of Quincy's wisdom. I remembered while being in labor there was a period of calm, a time to rest. She had told me there would be a moment where I could regain strength while the baby was turning once their head was out. If I had not known that, I know I would have panicked thinking something was wrong, I would have pushed harder for no reason and exerted more than needed. Instead, I felt in control. I felt safe and confident in myself, my body and my baby.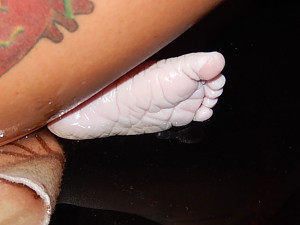 I will always be able to remember being able to walk around downtown Palm Springs taking my best friend, who flew in to help me with the birth, shopping while waiting to become in active labor. We then proceeded back home where she made me a light dinner and I sat in the bath for many hours, working through the labor process as I had practiced so many times in my head. My husband helped with the kids and filled the birthing pool. As I lay in the bath tub, breathing and trying to talk through pains, using a contraction app and texting Quincy – I then turned the phone over to Jess. Again, remembering a comment Quincy said that once the phone is passed over to the husband and her patient is no longer able to deal with the phone, she knows things are getting close. This passed through my mind and new things were serious now, these contractions were not going away, tonight was it. I wish I was able to relay that to my friend in that moment, when she finally asked if she should tell Quincy to come and I was actually able to respond, it wasn't enough time. Quincy not being able to make it in time for the birth was always something that was explained to us that could be a possibility and we were completely prepared for. My husband wasn't thrilled when she brought that up during our home visit, needless to say he was warned. In our binder was a page clearly formatted for such an occurrence and unknowings to me during labor, my friend and husband were studying that sheet like their lives depended on it!
Eventually, I moved to the pool where within ten minutes Ondine was making her way to our world. With my husband holding me and my friend waiting to catch Ondine in the water, I gave birth quickly and gratefully in a position that I chose appropriate. Which at the time was on my knees, leaning over the tub so my husband to hold my shoulders. We didnt know the gender previous to her being born. We love surprises. So once I felt my baby finally was born, without taking a moment to breath asked what it was. My friend said, "Its a girl!" – I turned around and had her in my arms for not more than three minutes when Quincy comes through the door with hands full. The moment was so amazing for me, to feel so sure of myself and of my baby. As amazing as it all was and to have the bliss of my new baby in my arms, I still felt an tremendous amount of guilt that I had not tried harder to accomplish this for my first. Why didn't I try harder to give her this entrance, but quickly dismissed those emotions so that I could continue to relish in the joy of the moment.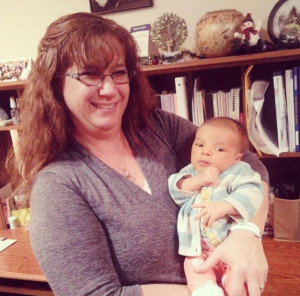 Looking back I also feel a little sad remembering Quincy's face when she walked in through the door, I could clearly see her disappointment at missing the birth. She obviously lives for those moments just as much as any mother, if not more in some ways. That also, however, made me feel the reconfirmation that I and my baby were deeply cared for and thus reconfirming that I had made the right decision in accomplishing my goal in a love filled home birth.
The weeks that followed were bitter sweet. One part of midwifery that I wish I could change is that we never have to leave them. I felt so confident and reassured in having a guide like Quincy. Never pressured on one way or another. Again, all the questions or fears I had on "if I was doing something right?" or "is this normal?", were put to ease. Not by her putting her views or opinions on me but by gently reassuring that what I felt inside was right. That I was doing just fine. In which case, I do understand why we don't need them forever, because the true midwife helps guide the strength of a mother into reality. Not mold it to what they see a mother should be.
Holly Arreola,
mother of Ondine Rogue (Dec. 2013)
– – – –
Migeul Arreola
father of Ondine Rogue (Dec. 2013)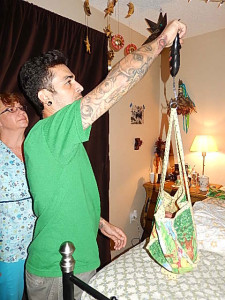 My wife Holly is the one that brought it to my attention that she wanted a home birth. I had thousands of questions. Worries and doubts. But once I met Quincy, she answered my questions and relieved me of all doubt. There is a danger in all aspects of life and I just wanted my child to come into this world safely and sound. And my wife answered that question for me, that natures been doing it for thousands of years – before the aid of western medical interference.
The day my wife Holly said that this could be the day, my heart raced and my mind went into overdrive. With the help and knowledge that Quincy gave me, it didn't go into panic. I followed the steps that she had provided months before hand. Things felt more natural and in place. I was paying close attention to my wife and making sure she was feeling ok. But she was more calm than I was. That gave me more relief, knowing that she was doing well. The hours became minutes. The birthing pool wasn't filling up fast enough. Before I knew it, she was in the birthing pool and I was holding onto her. I don't have words to explain how good it felt and before I knew it Ondine was in our world. Minutes after that, Quincy made it to our door and took over from there. My timing wasn't correct or else she would have been here on time. She said everything was fine and we did all the right steps. That we had a healthy, beautiful baby. The difference from the hospital to a home birth is it feels completely natural. Not like a number or conveyor belt to see who's next.
Quincy looked at our baby. Did all her tests and procedures. It felt good having Ondine sleeping with us. If we decide to have another child, and its not up to me its up to my wife, I would want her to have another home birth. It was safe, welcoming, loving and most of all I felt part of the whole pregnancy. From beginning to end. I was not left out. I always in the know and I always had questions for Quincy and she gave me great answers.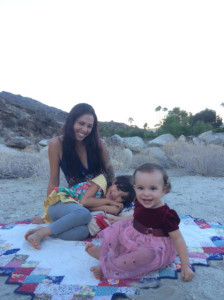 This is not for everyone. Obviously its the choice of the woman if they want to have a home birth. I, as a man, stand by my wife and all women to have their free choice in whatever they wish to do. They should have more programs and options widely available then just the traditional western process. Every pregnancy is different and there is dangers to every birth. The more options and information that are provided for the parents would only allow more people to make a more rounded decision on what they feel fits for them.