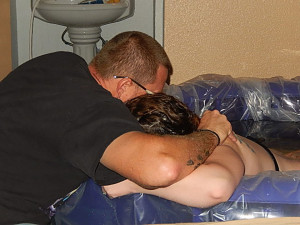 My births prior to Aj were all in the hospital. My last birth my son was sent away because the lab contaminated his blood sample so for the first wk of his life he was away from me most of it in the nicu. To leave my baby after carrying him for 35ks was the hardest thing I ever done. After having a natural birth with him he was ripped away from me because of a hospitals mistake. During my 4th pregnancy I had attended my friends home birth with Quincy as her midwife. I loved the hands on care and the atmosphere surrounding such a beautiful moment in one's life. We met with Quincy and it was then we knew we wanted a home birth. I had to be on bed rest because my little guy was trying to come early. I had weeks of braxton-hicks and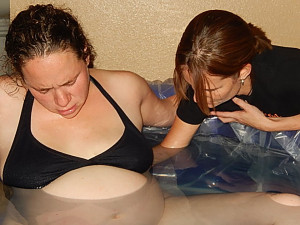 Quincy was great at encouraging rest for me and the baby. She was always there to answer my questions and concerns. the night before Aj was born I had been contracting on and off all day. Steve and I decided to walk to the mail box by the time I hit my mail box I had intense pressure. I told Steve to call Quincy. She said she was headed straight over.(Still at this point I was thinking maybe I'm in labor??) I went back inside got on the birthing ball. Yes, I was in labor. It was amazing to know that I could be this relaxed. I laid down slept for awhile. Woke up and labor started progressing. Almost three hrs later still a 7-8.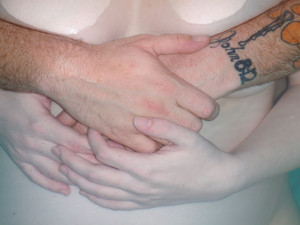 I had Quincy break my water. Then rocked in my rocking chair. During this whole time I was praying and concentrating on our Lord & heavenly father surrendering my all to him. This was amazing to just relax in my own setting and pray. Even listening to a ladies bible study CD to relax. At this point I wanted to lay back down but Quincy encouraged me to walk, use the birth ball, and squat. As these things worked but my thighs and knees hurt so bad at this point. I got up and came up with a pattern walk, birthing ball, squat and bathroom. Over and over with Steve staying close by side encouraging me. I wanted to get in the pool but had Quincy check me first. I was finally a 9!!!! PRAISE GOD! I was balling at this point.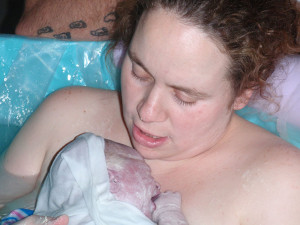 I was so happy to know I would be pushing soon. I was so ready to have this beautiful baby boy. I got in the pool and it was AMAZING! The warmth of the water just took the pain away in my back, thighs and knees. At this point my hypno CD was going and I was mentally telling myself I could do this and when it was time to push I was going to give it my all and get past the pain as fast as possible so that I could hold my baby. I felt so blessed to be bringing a baby into the world that was so wanted. That God would entrust and bless us with yet another blessing. Then I started pushing and out came my wonderful amazing 7 pound 4 oz baby boy! Ahh.. what a joy to have him out and in my arms.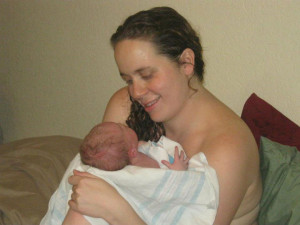 Our little guy did so many cart wheels while in utero he had a true knot in his cord and the cord wrapped around his neck once. To have my husband tell me what a good job I did. To have him hold me though the whole transition stage. To look in his eyes and know that he loved me. Then there was this wonderful baby in my arms that we made out of love. He is such a miracle. After wards I took a shower watched Quincy and Karen do his check up. He was so calm because he wasn't being poked and taken away from his mommy. Not screaming like my other three babies did. After wards Karen explained the placenta to me how it fed him and was his him for 9 months. Before everyone left I was in my own bed cuddled up to my baby with my husband right beside me. We watched movies and cuddled with our all our children. To sleep in own bed the first night was so relaxing. This whole experience was beyond what I thought it would be. If we have another IF WE HAVE ANOTHER ONE!!! Quincy will be delivering;-) Thank you God for you do in my life and thanks again to all that helped bring this blessing into the world;-)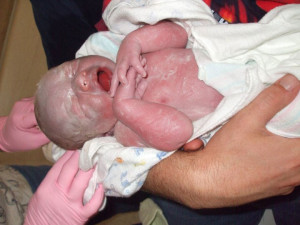 A few weeks after our 4 yr anniversary we learned we were excepting our 5th blessing. We were excited and awaited the day for the big day. We started our care with our wonderful midwife Quincy when I was 12 wks pregnant at that point I was nervous yet again if we would get to have our home birth because of my last pregnancies ending at 35 and 36 wks. My pregnancy was picture perfect beside the nausea and losing weight because of it. I was so enjoying my pregnancy which with my last three were rough between stress, hospital stay, early labors etc. I really feel the care I was receiving had a lot to do with it. As my due date approached I was tired and ready to hold our baby girl. A couple of days later contractions started but seemed irregular throughout the day.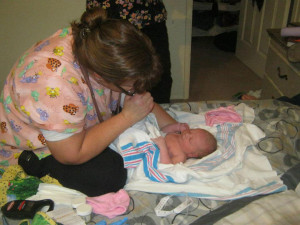 I tried to nap, then I texted Quincy to see what I could do to get them more regular and longer. She suggested to get back in the tub to see if they changed at all. As well as to talk to Kay-Leeann and let her know after all this time it was ok for her to come now. When I got in the tub I had my sweet talk with my baby girl and noticed right away they were harder to deal with well in the tub. After a long night of contractions, we were finally getting somewhere. I just started saying I couldn't do it and seeing Steve as well as hearing I could do it. I also kept telling Steve I was calling the Dr to get him fixed when I was done. Then I started saying I could do this out loud during the peeks of the contractions. It helped a lot to hear myself say it out loud.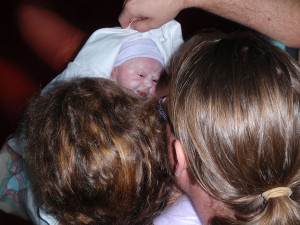 Because I knew I could do this! The high in between contractions felt amazing. I would have these long breaks and it was so restful. I got out to go to the bathroom around 12pm and I rushed to the bathroom and right back to the tub because I didn't want to have a contraction outside the pool. I must have looked funny because I heard Quincy and Karen giggly as I practically jumped back in the pool. A little while later we went into the room and I was 9 cm and a bulging bag of water. She broke my water and I wanted to stay there without contractions till my mom got there. As I laid on my back I got the worse contractions ever. Started asking for them to get me up. I headed back to the tub. Quincy said if I squatted or stand up during the next contraction it would help bring her down. So I got up during the next contraction and could barley handle it and started squatting I reached down and could feel her head read to crown.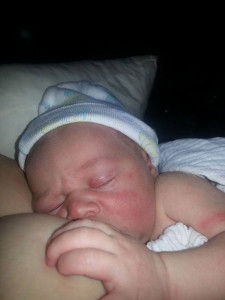 I then sat back down in the pool and started saying "I can do this, I can do this"! When I realized I was shaking my head no, while saying "I can do this", I started shaking my head yes while I continued to say "I can do this". Then, I felt the urge to push and Quincy was telling me slow down and then her head was out. Steve was behind with his arms around me telling you did the first part honey now you only have one more part to go you can do this. I bared down and started pushing again and Quincy said slowly. Then I gave one more push and she was out. She was just beautiful. She was covered from head to toe in vernix. So much it looked like she had cottage cheese between her toes. I was just so in love and relieved all those weeks of bed rest and we had our Precious Rose weighing in at 8 lbs 3 oz and 21 2/3 ins long.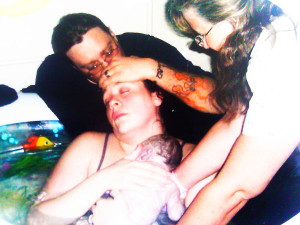 From the minute I found out I was pregnant with Ella-Rose Quincy was tremendous support. I called her in shock with the two double lines and she was there for me from that point on. As Ella-roses due date approached she would give us ways to help to make the last few weeks manageable. I listened and it made it a
lot easier to get though the uncomfortable part of the last few weeks. On Oct. 6th I went to my appt. I was 3 days past my due date so Quincy stripped my membranes upon request. After that we went to get our tires rotated and balanced. I was contracting and uncomfortable. I went home ate some food and bounced on my birthing ball. Messaged Quincy to let her know I think things are picking up. I got in bath to manage the contractions.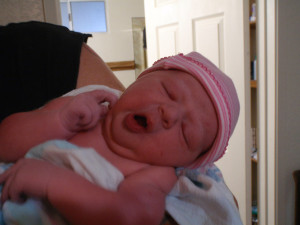 They were coming fast and long as well as causing a lot of pressure. So asked Quincy and our doula to come. Steve took the little to our friends house. I used the pool for relief as well as my exercise ball. I walked and squatted though the contractions. They were coming but not making much progress so I did the mile circuit and that seemed to help. I took a nap and woke ready to continue to the process. I got in the pool at one point and the contraction didn't feel right. I told Quincy and she was very attentive to what I was telling her. She laid with me on the bed telling what a great job I was doing and I was so close to having her. I remember feeling such peace with her encouraging me. I was pacing back and forth in my bedroom as well as using the toilet. at one point I could feel her head finally engaged got up off the toilet to get back in the pool. Told my doula to put a pad down and her head crowned.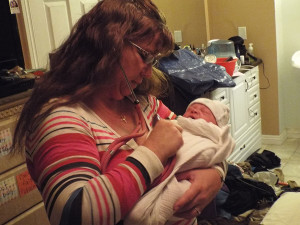 Quincy was right there guiding her earth side. She helped me sit down and placed my precious blessing on my chest. Soon after, they thought I was bleeding too much. Quincy and Karen handled the situation together as a team. Not once was I worried about my health. Once all was settled down we did a cord burning ceremony. It was beautiful everyone praying over our beautiful baby girl as we burned her cord together. Our family is so blessed to have Quincy and Karen as our Midwives. They make a very special day that much more memorable.